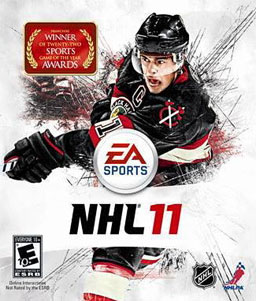 NHL 11
is will be released Sepember 7, 2010. It is published by
EA Sports
and developed by
EA Canada
.
Cover Athlete
Edit
Chicago Blackhawks center Jonathan Toews is the cover athlete. This is the second year in a row that a Chicago Blackhawks player made the NHL cover. Patrick Kane was on the cover of NHL 10.
You can now break your stick and have the ability to play with a stick-less player. You will be able to kick or grab the puck and teammates may offer their stick as a replacement or you can go to the bench to get a new one.
New physics-based engine which ensures that each bodycheck is unique, adding realism to the game.
New face-off system which introduces the ability to switch between standard or reversed grip and to puch or block the face-off opponent. Timing will be key in face-offs.
New passing system in which passes are triggered at the release of the trigger button, instead of the initial pull. The longer the button is held, the harder the pass will be.
New user-controlled goal celebration.
Players have the ability to jump over prone players.